All the game listings in the City Hunter series.
Famicom Jump: Hero Retsuden
Edit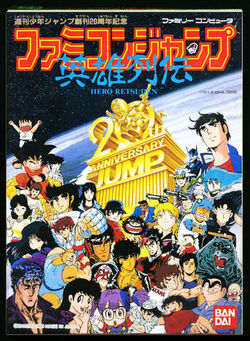 Famicom Jump: Hero Retsuden (ファミコンジャンプ 英雄列伝, Famikon Janpu Hīrō Retsuden, lit. Famicom Jump: History of Heroes) is an RPG game for the Template:W published by Bandai on February 15, 1988. The game commemorates the twentieth anniversary of Shueisha's manga anthology Shonen Jump|Weekly Shōnen Jump. It is the first crossover video game that started to evolutionized the generation of crossover video games.
Set in a world that brings together many of the long-running titles that had appeared in the magazine, both of the past and present at the time of its release. The game consists of a main character wandering and encountering the many Jump heroes as they try to save the world from an alliance of many of the most powerful and evil of the Jump villains.
The 16 Heroes
Edit
One of the main objects of the game is to gather a selection of 16 notable Jump hero characters in order to use them to fight against the enemies in this world. The Jump characters that can be collected are:
Kenshiro (Hokuto no Ken)
Nukusaku (Tsuide ni Tonchinkan)
Son Goku (Dragon Ball)
Ryo Saeba (City Hunter)
Arale Norimaki (Dr. Slump)
Pegasus Seiya (Saint Seiya)
Momotaro Tsurugi (Sakigake!! Otokojuku)
Bankichi Tokawa (Otoko Ippiki Gaki Daishō)
Reiki Kikoku (God Sider)
Joseph Joestar (JoJo's Bizarre Adventure)
Jouji Kanno (Doberman Deka)
Isamu (Kōya no Shonen Isamu)
Tsubasa Ozora (Captain Tsubasa)
Tarou Yamashita (Kenritsu Umisora Kōkō Yakyūbuin Yamashita Tarō-kun)
Kyūichi Uno (Astro Kyūdan)
Kinniku Suguru (Kinnikuman)
City Hunter (PC Engine)
Edit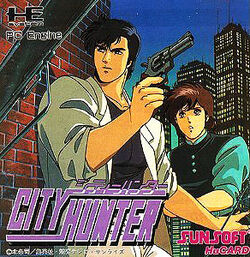 The first and only action game of the series. It was developed by Sunsoft on March 2, 1990. You control Ryo Saeba as he shoots while navigating through the stages.
Jump Force
Edit
Jump Force is an action-adventure video game developed and published by Bandai Namco for PlayStation 4, PC and Xbox One in 2019.
In Jump Force, the greatest heroes and villains from the 50-year history of Shueisha's Japanese Weekly Shonen Jump manga will battle against each other across iconic locations on Earth in this anime fighting game.
Featuring the world's most popular and classic manga/anime franchises including Dragon Ball, One Piece, Naruto, and many others, players will be able to create their three-character manga/anime dream tag team and take them into battle in arena brawls set against backdrops of famous landmarks around the world including New York City's Times Square and the Matterhorn in the Alps.
Phone Applications
Edit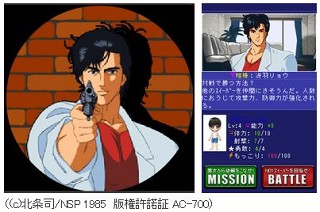 City Hunter: A Million Sweepers (シティーハンター 100万人のスイーパー, City Hunter: A Million Sweepers) is a mobile app game developed by Gree, a subsidiary of Entersphere. It was uploaded for app stores on June 29, 2010. The objective is playing the partner role of either Kyo, Kaori, Umibozu or Saeko, and fulfil the game by accepting the request from "beautiful women".
Community content is available under
CC-BY-SA
unless otherwise noted.